Animo Sano Psychiatry team is growing. We're excited to welcome our new mental health counselor, Charlotte Sime! We had the pleasure to talk with Charlotte about her life and experience and learn more about what motivated her to become a part of our team. Here's Charlotte's inspiring story.
1. What inspired you to pursue a career in healthcare and what brought you to Animo Sano Psychiatry?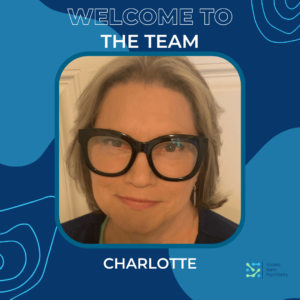 Growing up I was the person people came to discuss their hurts and struggles and I had no clue what to say to them then but wanted to help. Now I am trained and still learning how to help those with hurts and struggles. I found ASP through Kelly and the pursuit of wanting to work alongside those who are continuing to sharpen their skills and grow.
2. What motivates you?
It can be the simplest thing like a beautiful day and the wind on my face, but gratitude in life- knowing someone is watching out for me, grateful I do not get what I deserve, and I do help make a difference in the world one person at a time.
3. Tell us something about you that would surprise us?
I used to do photography and had a photo shoot with 2 Lions in their Den-Habitat and lived to talk about it.
4. What words of wisdom do you live by?
Never underestimate the importance of having fun…Randy Pausch
An injured lion still wants to roar…RP
Experience is what you get when you did not get what you wanted…RP
If you see a turtle on a fence post, know he had help…Alex Haley
5. Share a recent "proud moment."
I found my glasses! I have a few when I look at my adult children and see that they still like each other and care for one another and their communities and see how they are raising my grandchildren to be kind people. In therapy, there are moments when you see them break free from barriers that have been holding them back and they feel empowered.
6. Share any volunteer or charity efforts you're involved in.
Most is through my church I attend with community outreach- monthly we serve families that struggle to feed themselves and quarterly we have a clothing store where families can come shop for free. I help support the youth in their activities of spiritual growth in a variety of ways throughout the year.