Animo Sano Psychiatry team is growing. We're excited to welcome our new PA-C, Natalie "Ruth" Ball! We had the pleasure to talk with Ruth about her life and experience and learn more about what motivated her to become a part of our team. Here's Ruth's inspiring story.
1. What inspired you to pursue a career in healthcare and what brought you to Animo Sano Psychiatry?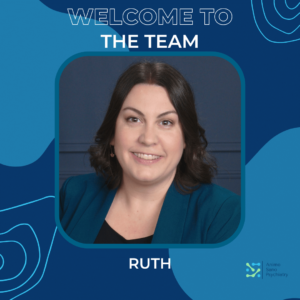 I am passionate about caring for others. Too often mental health issues are overlooked or seen as "less important" than physical. I believe the whole person should be cared for so using my skills in psychiatry was a natural progression. Animo Sano is combining the best of mental health care with the practicality of today's modern world: being able to see a provider through telehealth and receiving top notch care. I am extremely excited to be joining the team at Animo Sano.
2. What motivates you?
I am motivated to be a better "me" from one day to the next. It can be hard sometimes to not compare ourselves to others, but as long as you are making some progress (no matter how small!) each day, you will eventually reach your goals.
3. Tell us something about you that would surprise us?
I'm a beginner gardener! My goal this year is to expand from peppers and tomatoes to growing some lettuce varieties and broccoli.
4. What words of wisdom do you live by?
"We'll figure it out". The takeaway is to cultivate your flexibility, so if something comes up, have faith that you can figure it out and deal with whatever the situation may be.
5. Share a recent "proud moment."
A recent proud moment was joining and singing in my local community choir holiday concert!
6. Share any volunteer or charity efforts you're involved in.
Volunteer and charity efforts that are near and dear to me would definitely be Urban Ministries Open Door Clinic on Capital Blvd. They provide medical care in the clinic, food for families from the pantry, and there is also a women's center (Helen Wright) in downtown Raleigh. They are really doing great work in the community and I love to support them in any way I can.