Animo Sano Psychiatry team is getting stronger. We're excited to welcome our new physician assistant, MacKenzie Kirchner! We had the pleasure to talk with MacKenzie about her life and experience and learn more about what motivated her to become a part of our team. Here's MacKenzie's inspiring story.
1. What inspired you to pursue a career in healthcare and what brought you to Animo Sano Psychiatry?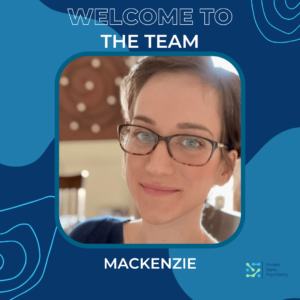 I never knew I wanted to work with people – I always wanted to work with animals, and be a veterinarian. Through a series of both fortunate
and unfortunate events in my journey, I realized that it may not be what I was destined to do. I decided to turn my sights to helping people.
Starting over was hard, but so worth it. Psychiatry is my passion – what I never knew I was born to do. I am excited to join Animo Sano,
as their passion for psychiatry matches mine. By the way, I am still an animal lover and wholly believe in the power of animal therapy!
2. What motivates you?
My family motivates me. I live with my husband, one year old daughter, mother in law, and three dogs – we are an amazing team.
3. Tell us something about you that would surprise us?
I am a published poet.
4. What words of wisdom do you live by?
My word to live by this year is "gratitude".
5. Share a recent "proud moment."
Just this morning, my one year old daughter Imogen said "socks"!
6. Share any volunteer or charity efforts involved in.
I enjoy rescuing animals, and working with a local non-profit free clinic, where I gained my patient care experience before PA School.